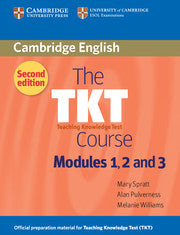 TKT is a series of modular teaching qualifications which test your knowledge in specific areas of English language teaching. It will help you to build your confidence, and is a cost-effective way to get an internationally recognized qualification. 
The Cambridge TKT Second edition book has: 
- Revised and expanded information on the key concepts related to the TKT syllabus. 
- An additional unit on 'Approaches to language teaching' reflecting the TKT syllabus. 
- New tasks in each unit for the Follow-up, Reflection, Discovery and exam practice sections. 
- New practice Tests for all 3 modules. 
- A new section on 'Tips for preparing for the TKT'
- Practice Tests  for all the TKT Module 1,2,3
* Available in Printed versions