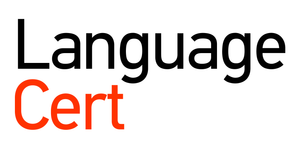 Language Cert B2 Level Exam
All 4 skills exam ( Reading, Listening , Writing & Speaking) 

LanguageCert exams are officially regulated or recognized by the designated official authorities or institutions in USA, United Kingdom, New Zealand, Thailand, Spain, Italy, Hungary, Greece and many other countries for study, work and travel purposes. It is a valid proof of your English Language Proficiency in order to study at an International University and for employers.
Center Based Exams: 
ICD offers Language Cert exams at its centers in ICD Lahore , ICD Karachi and ICD Islamabad. 

Online Exams: 
You can also attempt the Language Cert Online exam at your own home and get instant results. 
Payment Detail:
You can pay via Bank Deposit and Online Banking.

Before Payment kindly check open market exchange rates from this link https://www.forex.pk/open_market_rates.asp and pay PKR accordingly also take the screen shot and share with us as a proof.

After your Payment, fill out this Online Registration form and upload deposit slip & exchange rate screen shot: https://form.jotform.me/202161386381452
for how many time language cert b2 is valid?